This week we're going behind the scenes to look at the first stage of the design process.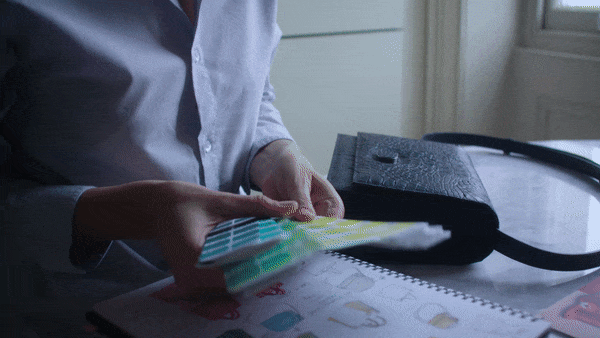 Decisions, decisions... playing with colour swatches.
A big hello and welcome to lots of new readers. Traffic to the website exploded last week - thanks VegNews!

I decided to give the eco-material deep dives a rest for the time being (but for the newbies, you can catch up here). I thought instead that you might be interested in learning about what goes on behind the scenes at LUXTRA. So today we'll look at the first step in the process of designing and manufacturing handbags (or wallets, or backpacks for that matter).
LUXTRA HQ... how glamorous.
The first stop on the tour is LUXTRA HQ: behold my hot-desk in a central London co-working space. It may not seem much, but it has all the essentials: natural light, a tape measure, sketchbook, noise cancelling headphones and my KeepCup.

At present it's just me working on the brand, with a few hours a month of admin and bookkeeping help from Fiona, along with the fabulous team in Devon who ship your orders. But I digress. You're not here for tales of receipts, tracking numbers and lost packages. You're here for the good stuff. So onwards: to the design process!
Step 1: sketch sketch sketch
When thinking about a new product I will often start by looking at the collection and asking myself "What is missing? What needs tweaking?". Other times I'll see a woman in the street with a beautiful bag, think "OMG I want it", and then start mulling over a LUXTRA version. I always, always, always carry a notebook and a pencil for precisely such moments (coincidentally, every LUXTRA bag fits an A5 or A6 notebook). Taking details down in the moment is very important, as my brain is usually firing 352 thoughts a minute and I'll forget if I don't write or draw on the spot.
I will then sketch dozens of identical base shapes, upon which I build variations. The sketches above are iterations of a saddle bag.

I try a half flap, a 3/4 flap, full flap, barely-visible flap; big buckle, small buckle, hidden buckle, powder-coated buckle; contrast stitching, self-stitching, invisible stitching, whipstitching, blanket-stitching... You get the picture.

Those of you with a keen eye for detail will have spotted the LUXTRA "side stripe" detail across many of our products. Whilst sketching I'll seek new ways of incorporating this feature. In fashion, a brand's signature detail is referred to as the "handwriting." Gucci's horse bit, Louis Vuitton's brown monogram, Luxtra's side stripe.
Handwriting: LUXTRA's side stripe
The next steps in the process vary, but will often include stalking bags currently on the market (Selfridges is my usual haunt), making card board mock ups (don't love this part tbh) or sometimes even getting out my sewing machine to make a textile prototype.
An early cardboard mock up, circa 2018
I'll leave things there for now and wish you a happy rest of your Sunday. I hope you'll join me again next week, where we'll examine the next stage of the design/manufacturing process: technical drawings and sampling (a.k.a. prototyping).
Have a great week ahead,
Jessica x
Founder | Plant Parent | Proud B-Corper